Community Wood Smoke Reduction Program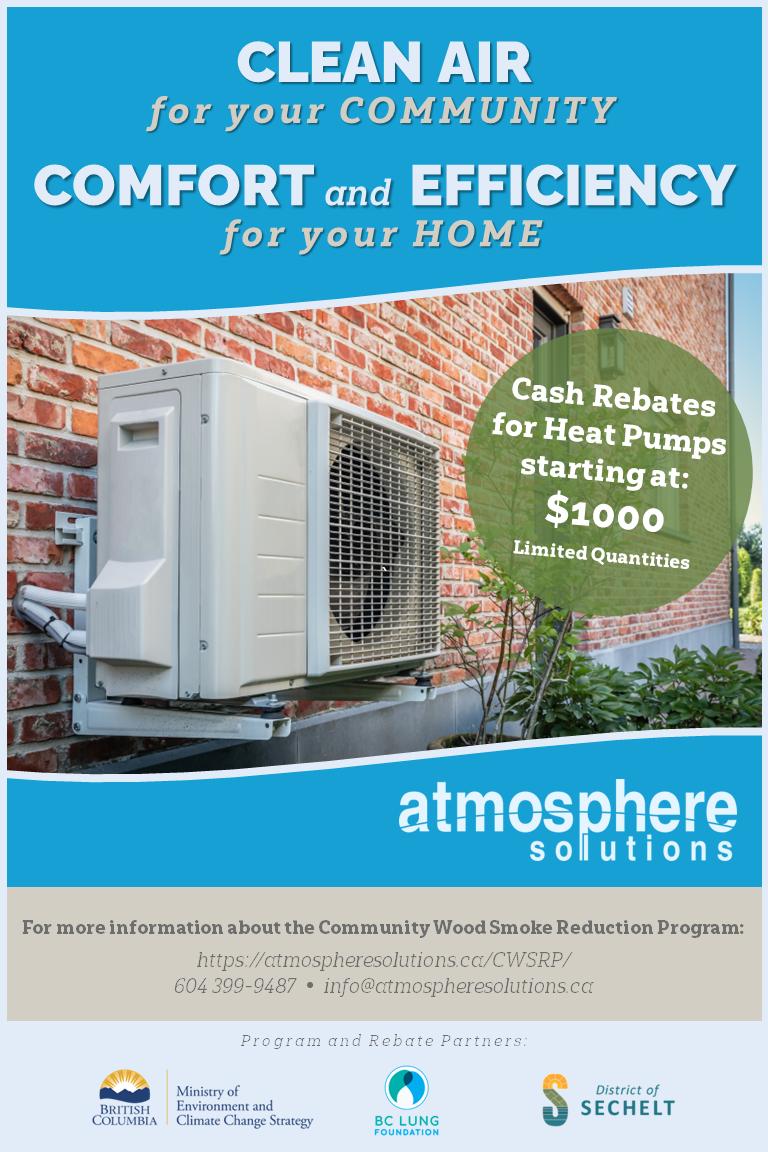 The Society for Atmosphere Solutions administers the Community Wood Smoke Reduction Program (CWSRP) in the areas covered by the Sunshine Coast Regional District, Squamish-Lillooet Regional District, as well as Bowen Island, Lion's Bay, and Horseshoe Bay. 
Residential wood smoke is a major source of air pollution in BC, especially fine particulate matter. The particulate matter and the other pollutants in wood smoke are known to affect health.  The smoke from wood burning affects everyone in the community, not just those who burn wood.
To tackle the wood smoke problem, we can offer rebates to change out old, smoky wood stoves for heat pumps and electric inserts, which are cleaner heating options.  See the Incentive Structure table below for rebates offered.
If you have any questions about rebate eligibility or the application process, please contact info@atmospheresolutions.ca or call us at 604 399-9487.  Follow this link and consult the interactive map to confirm if you reside within our boundaries.
Rebate Application Resources
Use the link below to download the application form.  This is the basic document applicants are required to complete.  Information provided in the form is used to determine rebate eligibility. On the last page, there is a list of additional documents and photos that will have to be provided when the application form is submitted.
NEW FOR 2023 – If you are keeping your old wood-burning stove as a back-up source of heat during emergencies (during a power outage for example), applicants must complete a Clean Burning Pledge. Related to the pledge form, is evidence that the old wood burning stove that an applicants plans to keep is CSA/EPA – compliant. This is typically done by sending us a photo of the make/model plaque that is on the stove.
There are a limited number of rebates available for 2023 (appoximately 16 full heat pump rebates remaining).  The table below proivdes information about the incentive structure and rebate amounts.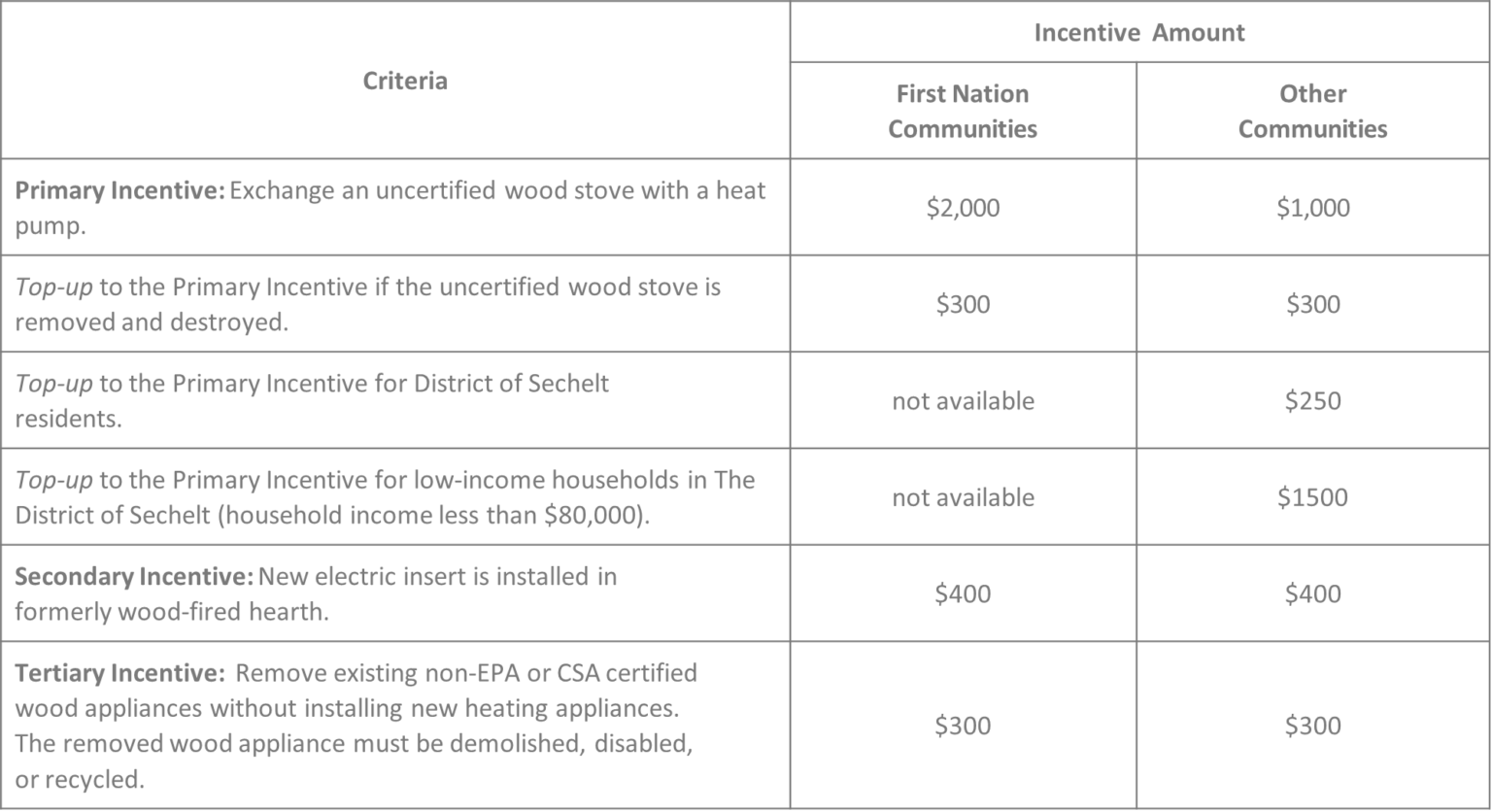 Certified Heat Pump Installers in Our Region
Through the CWSRP program, the Society for Atmosphere Solutions provides rebates for heat pumps that are eligible under the Home Renovation Rebate and CleanBC Better Homes Programs.  Your retailer or installer will help you make an appropriate selection however, this website is a good place to start to help select an approved heat pump:
Wood Smoke and Your Health
Residential wood smoke is a major source of air pollution in BC, especially fine particulate matter. The pollutants in wood smoke are known to affect health. Heating a home with wood is still a common practice, particularly in rural BC. Many people think wood is an environmentally friendly fuel since it comes from a renewable source. While it's true that wood is renewable, when it's burned in wood stoves and fireplaces it releases significant amounts of harmful substances. An old uncertified wood stove can emit 50-70 grams of particulate matter in an hour. Newer models emit less but even the cleanest wood stoves pollute local airsheds far more than other home heating options like electricity. Wood smoke is a complex mixture of solids, gases, and liquids. It contains hundreds of pollutants, including some that can cause adverse health impacts.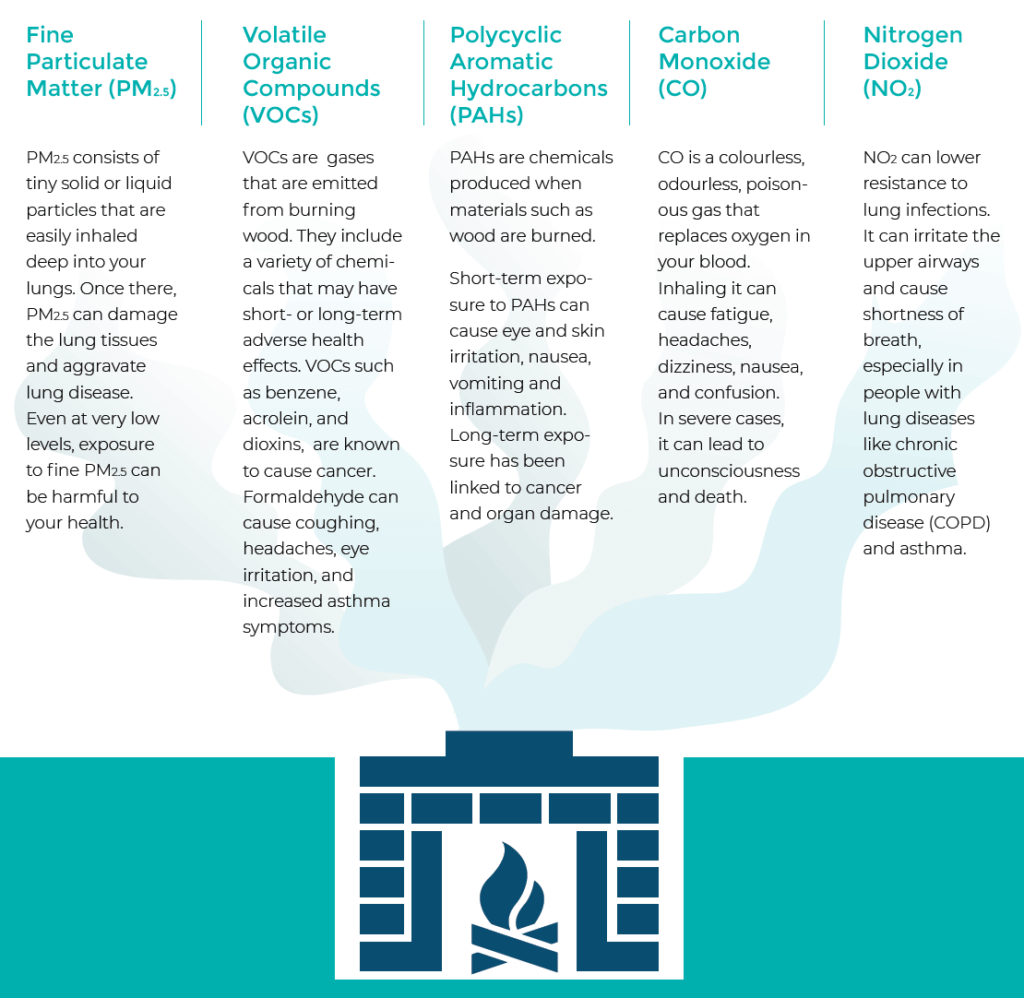 https://bclung.ca/protect-your-lungs/air-quality-lung-health/wood-smoke
Who is affected by wood smoke?
Wood smoke affects everyone. There are groups of people who are more susceptible to the effects of wood smoke including infants and children, elderly people, people with heart and lung conditions, outdoor workers, pregnant people, and people with diabetes.